6 things to know before buying new church chairs
If you're shopping for church chairs, you might have noticed that most church chairs look the same.
Although they might look the same on the outside, what matters is what's on the inside. Some church chairs last for decades, while others last just a few years. One pew chair can make you feel stiff and achy within minutes, while another one feels as comfortable as a cloud for hours.
If you don't know what to look for in church seating, or what questions to ask, you could end up with pew chairs that are uncomfortable, heavy, difficult to stack, environmentally unfriendly, or poorly made.
Here are the 6 things to know when buying chairs for your church.
Manufacturing location
Frame style & durability
Sustainability
Foam & comfort
Seat & back construction
Stacking & storage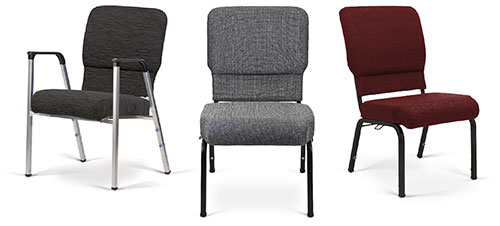 Manufacturing Location
The highest quality chairs are usually made in the US or Canada. Church furniture manufactured domestically is more durable and is made to higher standards. Domestically made furniture usually has a faster delivery time and is less likely to be damaged during shipment. Plus, by choosing a chair that is manufactured in the USA, your purchase will support American workers and the US economy.
However, that doesn't mean that you should discount some of the benefits of imported chairs.
Price is the main advantage of church chairs made overseas. Imported chairs are less expensive because labor is cheaper in many countries. If your house of worship has a particularly tight budget, imported chairs could be a viable option. They may not last as long as higher quality chairs, but sometimes cost is the ruling factor. The disadvantages of imported church chairs are longer lead times and (usually) lower quality.
The Bertolini Impressions Chair is made in the US. The Bertolini Millennia and Essentials Chairs are imported from overseas. We manufacture chairs in a variety of locations to make sure there is a chair for every preference and every budget.
Frame Style & Durability
If you're going to invest in new chairs, you want to make sure they will last. Look for steel or aluminum frames that have a powder coated finish, which will resist scratches and dents better than any other finish. This type of finish involves spraying a dry powder onto metal and then baking it at a high temperature, which then cures the coating. This creates a hard finish that's waterproof, stain-resistant, and more durable than paint.
To make sure you are buying chairs that last, you'll also want to find out how the frame is manufactured. Bertolini chair frames are manufactured using a 16-gauge bar system. The frames feature carbon steel with integrated torsion to provide extra strength.
Steel-framed chairs are often good stacking chairs. Look for chairs that come with stack buttons to help protect the upholstery.
Sustainability
The best chairs will last a long time (25+ years) and will be recyclable. Chairs made with recycled content (such as recycled steel, plastic, or aluminum) are also much more sustainable.
Look for products that are GREENGUARD Certified to protect against off-gassing, which happens when materials like textiles or plastics leak harmful chemicals into the air and contribute to bad indoor air quality. The Bertolini Impressions Church Chair is 100% recyclable and GREENGUARD Certified. The steel frames are made with an average of 23% post-consumer recycled steel.
If you are concerned about sustainability, you will want to avoid chairs and church auditorium seating that is manufactured in countries with low levels of environmental regulation. Otherwise, your purchase may contribute to pollution in those countries and could also be made with knock-off materials that are more likely to off-gas harmful toxins into your church.
Foam & Comfort
The quality of foam plays a big part in whether a chair is comfortable or not. Look for chairs with high-density foam because it's more solid and durable. Denser foam will also provide comfort and support over a long duration.
Bertolini chairs feature high quality, high-density foam cushions. The Impressions Chair delivers superior comfort thanks to custom molded, aerospace grade foam that we create right in our factory. The Impressions foam is under warranty for a full 25 years.
The Millennia and Essentials Chairs are also very comfortable church chairs. These chairs feature a seat cushion made of dual-density foam—a soft foam layer on top and a firm layer on the bottom. This creates a chair cushion that feels soft and comfortable, while still being firm enough to offer support.
Seat cushion foam that has a waterfall (rounded) front edge will be more comfortable than cushions with a sharp edge because the waterfall edge promotes healthy circulation in the legs and feet.
You can learn more about foam here.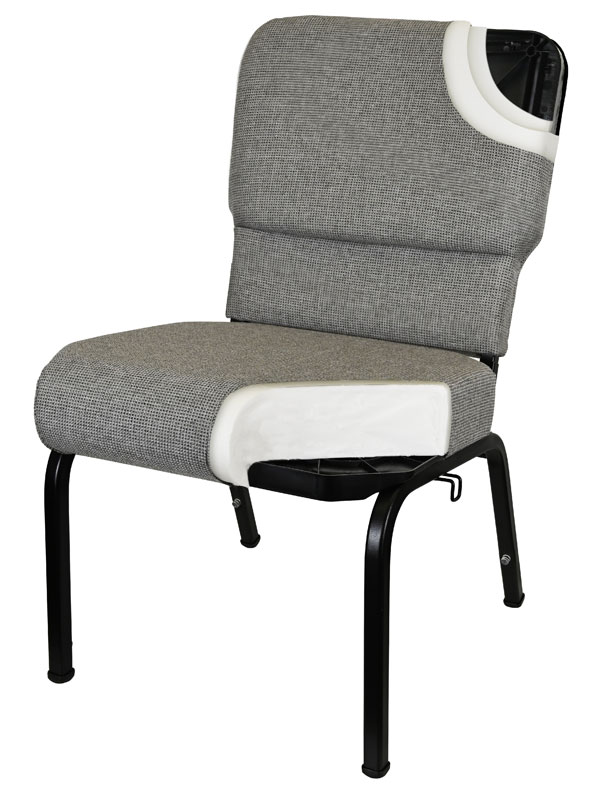 Seat & Back Construction
The materials used to make the seats and backs on a chair can impact a lot of things such as weight, maintenance, and comfort level.
Underneath the upholstery and padding, the material used to make the base can impact the comfort. Plywood seat and back bases are less expensive; however, they are also heavier, less comfortable, and more difficult to maintain and replace damaged upholstery.
Plastic seat and back bases are lighter, more comfortable, and easier to maintain. However, there is a price increase over plywood chairs. Plastic bases can also be contoured to the shape of the body for added comfort. Plastic bases sometimes include extra features like a flexible back, which leans back for individualized comfort during seating.
The Bertolini Impressions and Millennia chairs feature an Ergo-V plastic backrest base that provides extra comfort, ample support, and flexibility. Full upholstery helps provide sound absorption, to help create a quiet and worshipful environment.
Stacking & Storage
A stacking footprint refers to how much floor space a stack of chairs will require (measured in square feet). Remember that a stack of chairs will take up more space than a single chair because the chairs will "stack creep" forward as they are stacked—that is, each chair sits an inch or so forward from the last chair on the stack.
For example, a single Bertolini Church Chair will take up an average of 2.9 square feet (0.2 square meters) of space, depending on the model. A stack of eight chairs will take up approximately 4.3 square feet (0.39 square meters) of space.
This is important to consider before ordering chairs because you don't want to end up with more chairs than you can safely store.
A Church Chair for Every Need and Every Budget
Comfort Level: Superior
Price: $$$
Foam: Custom molded, aerospace grade foam for ultimate comfort and durability
Frame: Ultra-durable powder-coated steel
Seat: Zero-maintenance FormFlex™ contoured plastic seat base manufactured with BosScrew technology
Back: Ergo-V plastic base to provide support, with full upholstery for comfort and sound absorption
Weight: 16.3 lbs (7.3 kg)
Width: Available in 20″ or 22″
Stacking: 8 chairs high
Warranty: bertolinidirect.com/warranty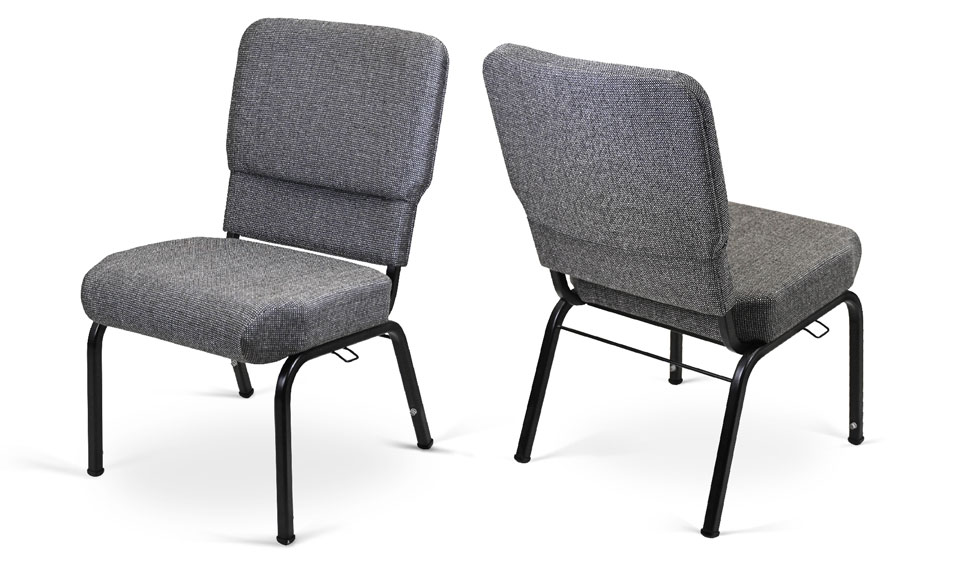 Comfort Level: Great
Price: $$
Foam: Commercial-grade, 3.5″ dual-density virgin foam
Frame: Durable powder-coated steel
Seat: Plywood seat
Back: Ergo-V plastic base to provide support, with full upholstery for comfort and sound absorption
Weight: 17.6 lbs (7.9 kg)
Width: 20″ only
Stacking: 8 chairs high with stack buttons to protect fabric and foam
Warranty: bertolinidirect.com/warranty
Comfort Level: Good
Price: $
Foam: Commercial-grade, 3.5″ dual-density virgin foam
Frame: Powder-coated steel
Seat: Plywood seat
Back: Upholstered plywood back base, with metal frame visible on back
Weight: 17.9 lbs. (8.1 kg)
Width: 20″ only
Stacking: 8 chairs high
Warranty: bertolinidirect.com/warranty